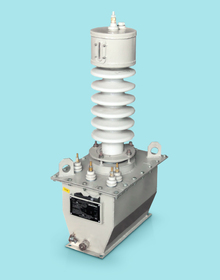 Equipment request
Models for delivery:
ZNOM-35 N1
ZOM-1,25/35 N1
ZOM-2,0/35 N1
ZOM-2,0/35 N1

1. General characteristics:
Winding connection ZNOM type
1/1/1-0-0
Winding connection ZOM type
1/1-0

2. Assignment:
Grounding voltage transformers, single-phase, oil-immersed ZNOM type with natural cooling are large-scale converters and are designed to generate the signal measurement information for electrical measuring devices, circuit protection and alarm in AC networks with isolated neutral 50 Hz and 60 Hz.
Transformers are not designed to operate under conditions of shock, vibration, explosive, and reactive environment.

3. Conditions:
Temperature for temperate climates
from −45°С to +40°С
no more than 80% when +25°C

4. Working resource:

1. Transformers ZNOM-35:
| Ultimate power | HV | LV basic | LV additional | Full weight | Oil weight |
| --- | --- | --- | --- | --- | --- |
| 1,0 kVA | 27,5 kV | 0,1 kV | 0,127 kV | 80 kg | 20 kg |

2. Power in accuracy classes ZNOM-35:
| 0,5 | 1 | 3 |
| --- | --- | --- |
| 0,15 kVA | 0,25 kVA | 0,6 kV |

3. Transformers ZOM-35:
| Model | Power, kVA | HV, kV | LV, kV | Full weight | Oil weight |
| --- | --- | --- | --- | --- | --- |
| ZOM-1,25/35 N1 | 1,25 | 27,5 | 0,23 | 80 kg | 20 kg |
| ZOM-2,0/35 N1 | 2,0 | 25 | 0,23 | 82 kg | 21 kg |
| ZOM-2,0/35 N1 | 2,0 | 27,5 | 0,23 | 82 kg | 21 kg |

1. Transformers ZNOM-35:


2. Transformers ZOM-35:

Download