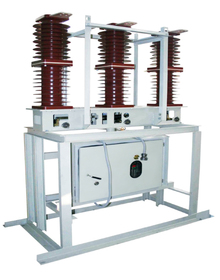 Equipment request
Models
ВВН-СЭЩ-Э-35-25/1000 NF1
ВВН-СЭЩ-Э-35-25/1600 NF1
ВВН-СЭЩ-Э-35-31,5/1600 NF1
ВВН-СЭЩ-П-35-25/1000 NF1
ВВН-СЭЩ-П-35-25/1600 NF1
ВВН-СЭЩ-П-35-31,5/1600 NF1

1. General characteristics:
Maximum operating voltage
40,5 kV
Short-circuit breaking current
25, 31.5 kA
Short circuit making current
63, 85 kA
Short time withstand current (3 seconds)
25, 31.5 kA
The initial value of the periodic component
25, 31.5 kA
Switchable capacitive current
no more than 630 A
Current consumption of the electromagnet
110, 120 kA (at 110 W)
Current consumption of the electromagnet
50, 60 kA (at 110 W)
no more than 0.08, 0.11 s

2. Assignment:
Designed for switching electrical circuits under normal and emergency modes in electric networks of three-phase alternating current 50Hz, for outdoor and indoor substations, power facilities, for traction substations electrified railways, as well as for frequent switching in electrothermal installations.

3. Conditions:
Installation height above sea level
up to 1000 m

3. Device and components:
The vacuum breaker consists of the following components: three poles with vacuum interrupter chambers, a control unit with the drive, frame poles with the shaft of the breaker, frame breaker, disconnector spring and oil buffer.

4. Advantages:
The vacuum chamber of the new generation has unique technical characteristics — between the contacts of the camera creates an axial magnetic field, which allows to improve breaking properties;
The ability to manually charged spring to activate the breaker under load in the absence of an operative current (only for spring-motor breaker);
Insensitivity to power surges, in the case when the breaker turns off the short-circuited line;
The simplicity of the design;
High reliability;
High switching resource;
For best heat dissipation pole WWN-SESH-35 used the effect of natural convection. On the circuit breaker with rated current up to 1000 A no need to install heat sinks, respectively, the design turned out to be cheaper and more reliable;
The presence of a counter of the number of cycles of operation of the breaker;
The presence of the indication of the position of breaker - on/off, spring-drive ready/not ready;
The built-in drive breaker a tripping unit;
A single design for all types of breakers, breakers with solenoid and spring motor drive have the same mounting dimensions;
Inner chamber of the breaker - ribbed. This improves the dielectric characteristics of the breaker and reduces the likelihood of breakdown in the inner surface of the pole of the breaker;
In the control unit installed tubular heating elements which are heated to a temperature of not more than 80 degrees, which eliminates the risk of fires and eliminates the possibility of burns or accidental touch to the tubes of staff.