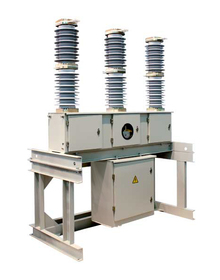 Equipment request
Models
ВР35НТ-35-25/1600-0/0 NF1
ВР35НТ-35-25/1600-3/0 NF1
ВР35НТ-35-25/1600-0/3 NF1
ВР35НТ-35-25/1600-3/3 NF1
Producer
High-voltage Union

1. General characteristics:
Maximum operating voltage
40,5 kV
Short-circuit breaking current
25 kA
Short circuit making current
64 kA
Short time withstand current (3 seconds)
25 kA
Switchable capacitive current
no more than 630 A
The highest peak of the transient current:
64 kA
The value of the periodic component
25 kA

2. Assignment:
Designed for switching of electric circuits under normal and emergency modes in electric networks of three-phase alternating current 50Hz, for outdoor and indoor substations, power facilities, for traction substations electrified railways, as well as for frequent switching in electrothermal installations.

3. Conditions:
Installation height above sea level
up to 1000 m
NF1 by GOST 15543.1-89 & GOST 15150-69.

3. Device and components:
The vacuum breaker consists of the following elements: block poles, block of the actuator and current transformers. The versatility of the spring actuator and its simplicity is possible to ensure high reliability and long life switches. In addition, it gave the following benefits:
low energy consumption when the platoon consisting of a spring;
the operation in the circuits as of direct current and as rapid alternating current;
the ability to perform manual activation and operational disable;
minimum weight and dimensions.
The current transformers can be installed from the bottom contacts of the pole - TOL-35-III-IV-1; 3; 5; 7 or TOL-35-III-II(V), or GIF35. From the upper contacts of the pole can be installed transformers - TOL-35-III-IV-2; 4; 6; 8.

4. Advantages:
Mechanical life 25,000 cycles;
Operating cycles 30 cycles at rated current off;
Switching resource 20000 cycles at nominal current;
The use of the most modern vacuum chambers;
A significant decrease in the weight and size of the breaker due to the replacement of ceramic tires silicon organic insulation;
The use of polymeric insulation in the construction of pole allowed to abandon the traditional filling pole transformer oil, which greatly improved the reliability and safety breaker;
Applicability in the circuits on the DC and AC operating voltage;
Minimum maintenance;
Warranty period 5 years.