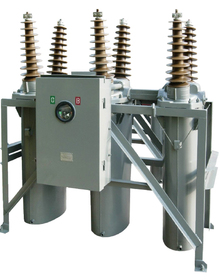 Equipment request
Models
ВБЭТ-35 III-25/630 NF1
ВБЭТ-35 III-25/1600 NF1
Producer
"Contact" Saratov

1. General characteristics:
Maximum operating voltage
40,5 kV
Short-circuit breaking current
25 kA
Short circuit making current
63 kA
Short time withstand current (3 seconds)
25 kA
Switchable capacitive current
630 A
Stroke of the movable contact pole
16+1 mm

2. Assignment:
Designed for switching of electric circuits under normal and emergency modes in electric networks of three-phase alternating current 50Hz, for outdoor and indoor substations, power facilities, for traction substations electrified railways, as well as for frequent switching in electrothermal installations.

3. Conditions:
Installation height above sea level
up to 1000 m

3. Device and components:
The breaker consists of three poles. They are collected on a separate cover installed on the frame. Poles are connected to one common set between the pole sleeves. On the frame reinforced cabinet with electromagnetic drive direct current PEMU-500. Pets food including electromagnets drive rectified current, for example, the device type power supply UKP-KN. Arc extinguishing is provided a vacuum interrupter chamber KDV-35-25/1600 NF2. The breaker comes with built-in current transformers TV-35-II. As additional insulation arc chambers used transformer oil or insulating liquid type MIDEL 7131.

4. Reliability indicator:
Resource on the mechanical resistance of not less than 20,000 cycles, where "tn" is an arbitrary pause;
Resource on switch resistance at rated current 630 a 1600 A and not less than 20,000 cycles;
Resource on switch resistance at the rated tripping current of 25 kA at least 30 cycles and 70 operations;
Service life — 30 years.